Digital Marketing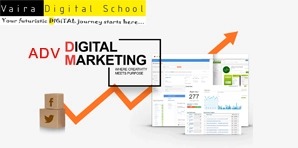 What is Digital Marketing?
Digital Marketing is a marketing approach to promote a business on various digital platforms. The primary goal of digital marketing is to reach our target audience based on their demographics, behaviors and interests to generate brand awareness, traffic and leads. Digital marketing is most cost effective marketing strategy with high Return on Investment compared with traditional marketing.

Growth of Digital Marketing in India


As of April 2019, the global internet users are 3.9 Billion.
India is the 2nd largest country with more than 500 Million (50 Crores) internet users. Due to growth in internet usage, digital marketing has become the fastest growing industry in 2018-19. As per recent news report, there is a demand of more than 1,50,000 digital marketing professionals in India. Our Digital Marketing Course will empower you to start career in digital marketing.


Become a Certified Digital Marketing Professional


VAIRA DIGITAL SCHOOL is pioneer in digital marketing education and offering the practical training as per industry experts. Our comprehensive digital marketing course will help you master the subject in 20% theory and 80% practical. Our course includes website designing, Search engine optimization, Search Engine Marketing (Google AdWords & Bing Ads), Social Media Marketing, Email Marketing, Online Reputation Management, Inbound Marketing, Money Making Strategies and more. We deliver the digital marketing training in classroom, video and online mode. We are offering both Weekdays and Weekends Classes for Digital Marketing.

We are offering Advance Digital Marketing Training in Satara from Industry expert trainers. We believe in practical oriented training, so we help students with practical examples and assignments in training course. We also provide 100% placements assistance for students for better career opportunities.
So, why wait, Join Vaira Digital School, Pune & Satara, India.